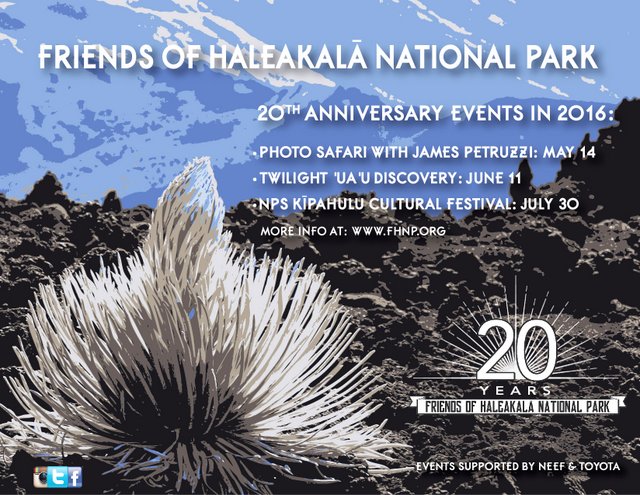 MARCH WITH FHNP IN THE MAKAWAO PARADE JULY 2
The first 40 to register here can march and receive a free FHNP 20th anniversary T-shirt. The first 40 registered will receive an e-mail with details of when and where to meet.
HALEAKALĀ NATIONAL PARK COMMUNITY MEETING TO DISCUSS BACKCOUNTRY FACILITIES AND OPERATIONS - June 15, 2016
The public is invited to attend a community meeting hosted by Haleakalā National Park on Wednesday, June 15, 2016, at the Pukalani Community Center. The meeting is scheduled from 5:00pm to 6:30pm.
Park staff will share updates about wilderness backcountry camping and cabin use and other general topics.
Twilight 'ua'u Discovery - June 11, 2016
Watch the native Dark-Rumped Petrel return home after a hard day at the ocean and listen in on their evening celebrations.
Wildlife biologists Fern Duvall and staff from the Maui Nui Seabird Recovery Project will be on hand to teach participants about the unique lifestyle of this endangered native bird. Under the light of the moon and using night-viewing equipment you will be able to observe these birds as they return to their burrows in the cliffs at the edge of the crater and as they enjoy their evening. Enjoy their unique and haunting call that gives them their name-sake. Please wear warm clothing as the temperature will drop rapidly once the sun sets.
This free event will be held starting at 7:00 PM at the summit visitors center parking lot in Haleakala National Park. Sunset is at 7:10.
Please register for the event so that we have an idea of how many to expect by completing and submitting the form at: https://docs.google.com/forms/d/10eAz2u9WlE16wBDumTbVv-o1x6OJ2DbqyX-Iscw7sDM/viewform
Two one-year park passes will be given away as Door Prizes. To win you must pre-register and you must be present at the event.
Note: Start time and meeting place may change. Register to receive e-mail notifications of any change.
This event is supported in part by a grant from the National Environmental Education Foundation and Toyota Motor Sales
Photo Safari - May 14, 2016
Join the Friends of Haleakala National Park for a nature & wildlife photo safari!
Photographer James Petruzzi will offer instruction for capturing great shots on a half-day hike in Haleakala National Park on Saturday, May 14, 2016. He will discuss the challenges of forest photography, taking macro shots of plants and insects, use of tripod/monopod, and habits of Hawaiian honeycreepers. Photographers of any level of expertise are welcome. The hike will include Hosmer's Grove and the Supply Trail. A National Park Service guide will share additional knowledge of the native flora and fauna. Potential photographic subjects include: honeycreepers, pueo (Hawaiian short-eared owl), native trees and shrubs, rock faces, and stream (if flowing).
This free workshop is limited to 20 people. Attendees will need to pay fee or present pass to enter the park. Meet at Hosmer's Grove (first left after park entrance on Crater Road). Please allow 40 minutes driving time from Pukalani.
Saturday, May 14, 2016 from 8:30 to 11:30 am.
Limit: 20 people
Please contact Mele at 808-205-4067 for reservations.
What to Bring:
Any type of camera (a DSLR w/ telephoto lens is recommended for birds and a macro lens for plants and bugs)
Raingear, water and trail snacks
Clean close toed shoes (free from dirt and weed seeds)
This free public event is part of a series celebrating the Friends of Haleakala National Park's 20th birthday and the National Park Service Centennial.
Supported by NEEF and Toyota
---
Details of other 20th anniversary events will be posted soon. Create an account at FHNP Account to join our e-mail list and be the first to hear.