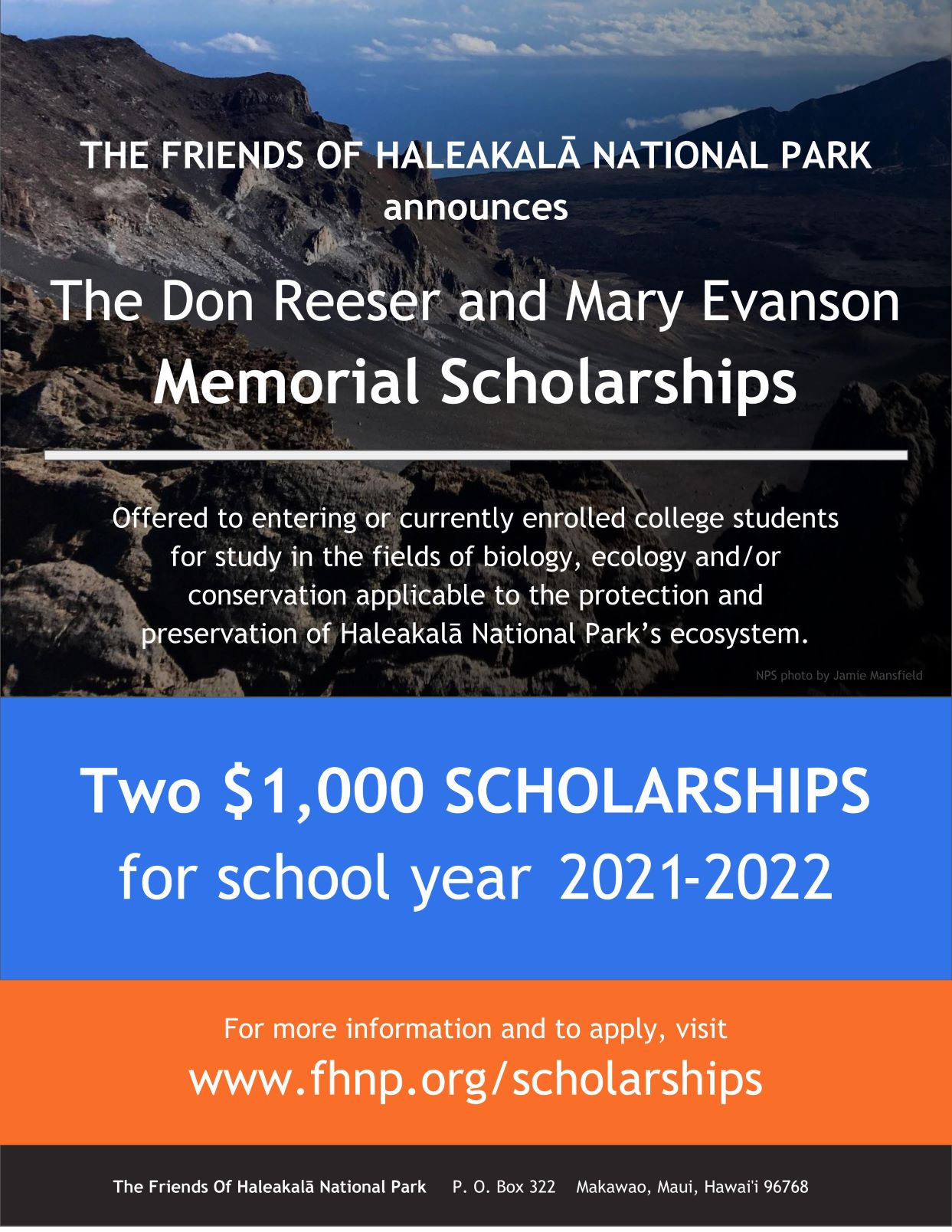 Overnight Tent-Camping Service Trips Scheduled
See schedule at http://fhnp.org/service.html
Annual Meeting 2/17 at 6:00PM via Zoom
You must pre-register to attend using the link below
https://zoom.us/meeting/register/tJwkcuuhrjkpEtRdqfQVgZTslnveKk0EPZ2f
Archeology at Haleakalā National Park will be the theme of a presentation offered by the Friends of Haleakalā National Park at their annual membership meeting. All past and present volunteers as well as the general public are invited to the free event on Wednesday, February 17, at 6:00 pm.
You must pre-register to join the meeting, which will be held virtually via Zoom. To register, go to fhnp.org and follow the instructions for registering to attend the FHNP annual meeting. Once registered, you will receive instructions for joining the meeting via email. Please register prior to the Feb. 17 meeting date.
Rachel Hodara Nelson, Archeologist and Cultural Resources Program Manager at Haleakalā National Park, will present a brief overview of the Cultural Resource program, with a special emphasis on the archeological resources throughout the park and current ongoing archeological projects. With a B.A. in Anthropological Sciences at Stanford University and her M.Sc. in Environmental Archaeology and Paleo-economy from the University of Sheffield, Ms. Hodara Nelson brings her interest in the interactions of humans on the landscape through the lens of archaeology, and works to bring Hawaiian archaeology, history and culture to life for park visitors and the local Maui community where she was raised.
Following her talk, Kawai Domingo, Volunteer Coordinator at HNP, will review the current status of the Park, as well as the plans for safely re-opening Park access.

After that, the Friends officers will give updates about 2020 achievements and 2021 plans and programs. FHNP members will elect the board of directors for 2021.
Friends of Haleakalā National Park membership dues are $30 per calendar year. New members can join and current members can renew by clicking "join us" on our website at fhnp.org.
Wear Your Love of Haleakalā NP
Friends of Haleakalā branded shorts and hooded pull-overs are available for purchase via on-line seller bonfire. Profits from the sale of these items help support the FHNP and our mission. These quality shirts sport a beautiful design of nēnē overlooking the Park, created by talented local artist and FHNP board member, Maggie Sutrov. They are available in several colors and styles and sizes. Purchase one for yourself, and maybe one for everyone on your holiday gift list.
Order your now at https://www.bonfire.com/wear-your-love-of-haleakala-crater/
The Don Reeser and Mary Evanson Memorial Scholarship
Scholarship grants of $1,000 USD will be awarded to each of up to two students who will be attending an accredited college or university in 2021-2022 and who are, or will be, studying in a field related to the biology, ecology and/or conservation of Haleakalā National Park's ecosystem.
The scholarship honors the life work of both Don Reeser, Superintendent of Haleakalā National Park from 1988 to 2005, and Mary Evanson, co-founder of the non-profit Friends of Haleakalā National Park (FHNP) which supports the Park's mission to preserve and protect Haleakalā 's unique ecosystems, scenic character, and associated Native Hawaiian culture.
For more information and application forms, see fhnp.org/scholarships