January Nursery Service Day Cancelled
There will be no nursery event for the first Tuesday in January due to NPS staff shortages. Check back later this month to see if the February event will be held.
Scholarships Granted
Two young women from Maui, Erika Kekiwi and Janine Harris, are the recipients of the second annual Don Reeser and Mary Evanson Memorial Scholarship award given by the Friends of Haleakalā National Park.
Erika Kekiwi is a graduate student at the University of Hawaiʻi at Hilo, in the Tropical Conservation Biology and Environmental Science program. Inspired by the rare fauna of Haleakalā, Erika is working on a project for protection of two critically endangered, endemic East Maui forest birds. Her project involves the bio-acoustic monitoring of the kiwikiu and the ʻākohekohe by creating automatic detection algorithms that will help researchers monitor bird song recordings.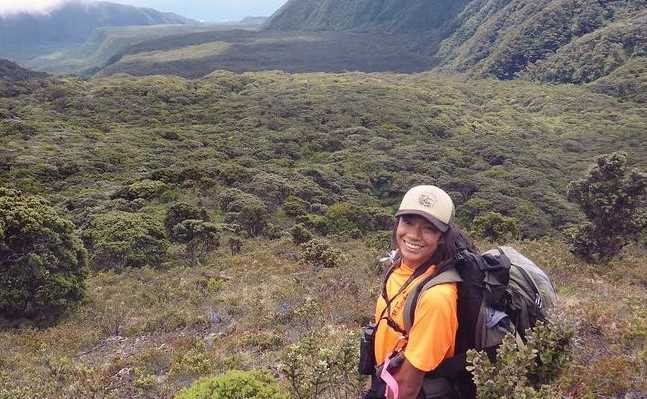 Acoustic monitoring is conducted by deploying recording units in the field with batteries lasting months at a time, creating long-term monitoring opportunities. This can effectively replicate a human surveyor, except over time frames that would be infeasible for humans to conduct. However, processing these recordings can be difficult and incredibly time-consuming. Her project aims to create an automatic detection algorithm to make processing of these recordings much more efficient and thereby offer more information necessary to preserve these species. Kekiwi, a graduate of Kamehameha Maui High School, hopes to work in conservation and help to protect Hawaiʻi's natural resources for generations to come.
Janine Harris, a graduate of King Kekaulike High School, will be a senior in the Microbiology Laboratory course at the University of Portland in the fall. She has returned for two past summers to work as an intern at Haleakalā National Park. In 2019 she served as an ʻImi I Ka Lama/Kupu Intern in the cultural resource department where she assisted the park's museum technician with digitizing and electronically organizing the park museum's historic photos and plant, insect, and artifact collections. The following summer, she returned to the park as an intern with the National Council on Preservation Education and assisted the park's archeologist with the mapping of ancient sites and historic structures, surveying and mapping archeological sites throughout the 17-acre park-owned parcel in Maʻua, Kaupō. Harris isn't sure yet what fields of science she will work in ultimately, but she has loved learning about the cultural and ecological resources of Maui through her internships at the park.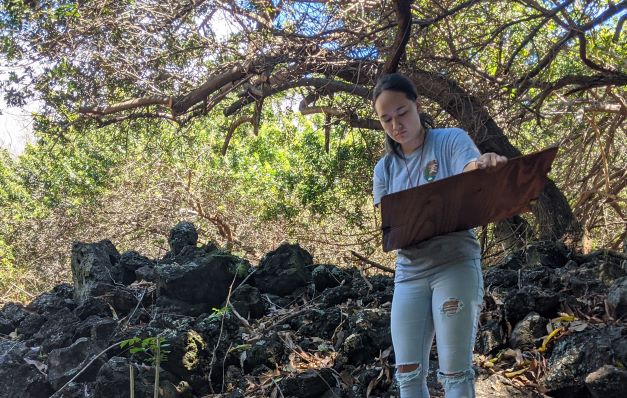 The two annual $1,000 scholarships honor the life work of both Don Reeser, superintendent of Haleakalā National Park from 1988 to 2005, and Mary Evanson, co-founder of the nonprofit Friends group which supports the park's mission to preserve and protect Haleakalā's unique ecosystems, scenic character and associated Native Hawaiian culture.
Overnight Tent-Camping Service Trips Scheduled Through the End of the Year
Single Day trip to Holua 5/15
Greenhouse Maintenance Day Trips re-starting
See schedule and details at http://fhnp.org/service.html
---
Wear Your Love of Haleakalā NP
Friends of Haleakalā branded shorts and hooded pull-overs are available for purchase via on-line seller bonfire. Profits from the sale of these items help support the FHNP and our mission. These quality shirts sport a beautiful design of nēnē overlooking the Park, created by talented local artist and FHNP board member, Maggie Sutrov. They are available in several colors and styles and sizes. Purchase one for yourself, and maybe one for everyone on your holiday gift list.
Order your now at https://www.bonfire.com/wear-your-love-of-haleakala-crater/
Native Plant Events -
Volunteer in the Greenhouse
The first Tuesday of each month the Friends organizes a work day to help care for the native plants in the greenhouse in the summit district of Haleakala National Park. To sign up or to learn more, please contact Mary SantaMaria at 572-1584
Volunteers will help with jobs involving caring for the rare, endemic plants being propagated, such as transplanting, weeding, cleaning and preparing seeds for storage or planting, and some pot washing. The park recycles pots which have to be carefully cleaned to prevent the spread of plant diseases. There may sometimes be some out planting, but most of the service work is done inside, and participants can drive up to the location of the work.
Those interested should call Mary at 572-1584 for a reservation.
Participants should bring water, lunch and snacks, and their own gloves if desired. The park will provide other tools. Wear sturdy shoes, and in case of out planting work, bring a hat and sunscreen.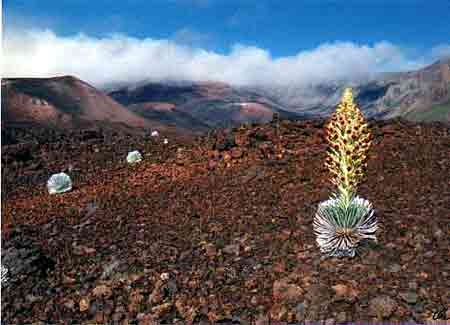 Photo by Christa Matthews
Purpose
The general purpose of the FRIENDS OF HALEAKALA NATIONAL PARK, INC., a Hawai'i non-profit corporation, is to support educational, cultural, research, and service activities relating to the park and its ecosystems.
Mission
The mission of the Friends of Haleakala National Park is to assist the park and the National Park Service to achieve the purposes and goals for which they were established: to preserve Haleakala's unique ecosystems, scenic character, and associated Native Hawaiian cultural and spiritual resources. The Friends also provide educational, inspirational, and recreational opportunities compatible with preserving the many natural, cultural, and spiritual resources of Haleakala so as to leave them unimpaired for the enjoyment of future generations.
Directors & Officers
Matt Wordeman, President
Mele Stokesberry, Secretary
Andy Fox, Vice President
Eric Anderson, Director
Mary Santa Maria, Director
Laura Miller, Treasurer
Kiope Raymond, Director
Chris Sanford, Director
Debbie Sanford, Director
Tano Taitano, Director

Advisory Board
Farley Jacob
Fern Duvall II
Chris Ikaika Nakahashi
Martha E. Martin
---
Friends of Haleakala National Park
P.O. Box 322 ~ Makawao, HI 96768
(808) 876-1673 ~