July 5 - Nursery Day
Volunteers will help park horticulturist with jobs involving caring for the rare, endemic plants being propagated, such as transplanting, weeding, cleaning and preparing seeds for storage or planting, and some pot washing. The park recycles pots which have to be carefully cleaned to prevent the spread of plant diseases. There may sometimes be some out planting, but most of the service work is done inside, and participants can drive up to the location of the work. The workday is 9:00 to noon the first Tuesday of each month. To sign up or to learn more, please contact Mary SantaMaria at 572-1584
July 2-5 at Paliku Cabin
Join the FHNP on an overnight service trip to Paliku cabin. This three-night trip involves a long backpack to and from beautiful Paliku cabin. The work will likely involve removal of invasive blackberry from areas near Paliku. participants will have time to relax and explore beautiful Paliku. The group will stay in Paliku Rangers cabin and a family style dinner will be shared each night. To register for this trip, contact beth@fhnp.org
Survey
Please take a short survey to help FHNP choose dates for service trips in 2023 by clicking here. If you have other suggestions about service trips, write andy@fhnp.org or matt@fhnp.org
Community Volunteer Ambassador
Haleakalā National Park is recruiting an intern to serve as the park's Community Volunteer Ambassador (CVA). The Start Date: September 12, 2022.
• Living Allowance: Baseline allowance of $500/week* AmeriCorps Award: $6,345.00 (pre-tax)
• Application Due Date: July 15th 2022 or Until Filled.
• Housing is not provided with this position. An additional $80/week may be allocated to support rent
• The position is 50 weeks, 40 hours/week.
• Members will attend a week-long, nationwide, virtual training-National Early Service Training
The CVA will support the Volunteers-In-Parks program at Haleakalā National Park, by expanding volunteerism, service-learning, community engagement efforts, and increasing the sustainability of established programs. This excellent opportunity is ideal for an enthusiastic young professional who is deeply committed to help strengthen the bonds between communities and parks.
Link to apply:
https://www.cvainternships.org/pacificwestregion
---
Wear Your Love of Haleakalā NP
Friends of Haleakalā branded shirts and hooded pull-overs are available for purchase via on-line seller bonfire. Profits from the sale of these items help support the FHNP and our mission. These quality shirts sport a beautiful design of nēnē overlooking the Park, created by talented local artist and FHNP board member, Maggie Sutrov. They are available in several colors and styles and sizes. Purchase one for yourself, and maybe one for everyone on your holiday gift list.
Order your now at https://www.bonfire.com/wear-your-love-of-haleakala-crater/
Native Plant Events -
Volunteer in the Greenhouse
The first Tuesday of each month the Friends organizes a work day to help care for the native plants in the greenhouse in the summit district of Haleakala National Park. To sign up or to learn more, please contact Mary SantaMaria at 572-1584
Volunteers will help with jobs involving caring for the rare, endemic plants being propagated, such as transplanting, weeding, cleaning and preparing seeds for storage or planting, and some pot washing. The park recycles pots which have to be carefully cleaned to prevent the spread of plant diseases. There may sometimes be some out planting, but most of the service work is done inside, and participants can drive up to the location of the work.
Those interested should call Mary at 572-1584 for a reservation.
Participants should bring water, lunch and snacks, and their own gloves if desired. The park will provide other tools. Wear sturdy shoes, and in case of out planting work, bring a hat and sunscreen.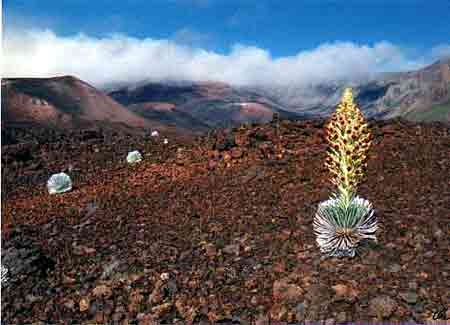 Photo by Christa Matthews
Purpose
The general purpose of the FRIENDS OF HALEAKALA NATIONAL PARK, INC., a Hawai'i non-profit corporation, is to support educational, cultural, research, and service activities relating to the park and its ecosystems.
Mission
The mission of the Friends of Haleakala National Park is to assist the park and the National Park Service to achieve the purposes and goals for which they were established: to preserve Haleakala's unique ecosystems, scenic character, and associated Native Hawaiian cultural and spiritual resources. The Friends also provide educational, inspirational, and recreational opportunities compatible with preserving the many natural, cultural, and spiritual resources of Haleakala so as to leave them unimpaired for the enjoyment of future generations.
Directors & Officers
Matt Wordeman, President
Mele Stokesberry, Secretary
Andy Fox, Vice President
Mary Santa Maria, Director
Laura Miller, Treasurer
Kiope Raymond, Director
Tano Taitano, Director
Elizabeth Speith, Director
Larry Feinberg, Director

Advisory Board
Farley Jacob
Chris Ikaika Nakahashi
Martha E. Martin
---
Friends of Haleakala National Park
P.O. Box 322 ~ Makawao, HI 96768
(808) 876-1673 ~