Latest News
Click on FHNP 2015 Year in Review to see what FHNP has been up to.
Click on EVENTS for our free public programs on Haleakala's natural resources and Maui's environmental issues.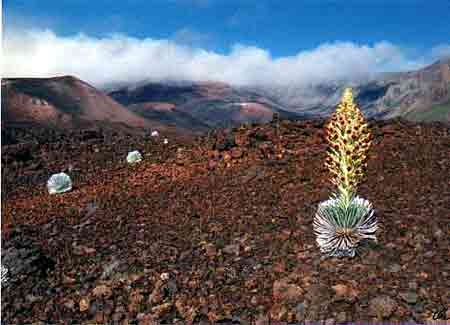 Photo by Christa Matthews
Purpose
The general purpose of the FRIENDS OF HALEAKALA NATIONAL PARK, INC., a Hawai'i non-profit corporation, is to support educational, cultural, research, and service activities relating to the park and its ecosystems.
Mission
The mission of the Friends of Haleakala National Park is to assist the park and the National Park Service to achieve the purposes and goals for which they were established: to preserve Haleakala's unique ecosystems, scenic character, and associated Native Hawaiian cultural and spiritual resources. The Friends also provide educational, inspirational, and recreational opportunities compatible with preserving the many natural, cultural, and spiritual resources of Haleakala so as to leave them unimpaired for the enjoyment of future generations.
Directors & Officers
Matt Wordeman, President
Shannon Wianecki, Vice President
Mele Stokesberry, Secretary
Mary Santa Maria, Treasurer
Martha E. Martin, Director
Don Reeser, Director
Elizabeth Speith, Director
Advisory Board
Mary Evanson
Farley Jacob
Fern Duvall II
Kiope Raymond
---
Friends of Haleakala National Park
P.O. Box 322 ~ Makawao, HI 96768
(808) 876-1673 ~